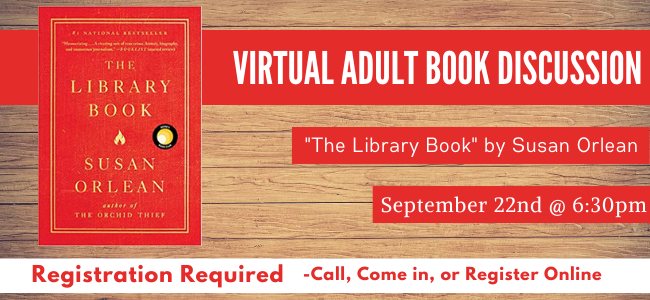 The Library Book by Susan Orlean

Join us for this month's book discussion. This nonfiction bestseller discusses the past and future of libraries while investigating a horendous fire at the Los Angeles Public Library. Registration is required for this event due to it's digital nature. Please come in or call to register, or click the register button above. An email address is required.
Don't forget to stop by the circulation desk to pick up a copy!

***For this program we will be using Google Meet.*** If you are using a computer, you will be able to open the meeting room directly by going to the link that will be emailed. If you will be using a smartphone, tablet, or chromebook, you will need to download the Google Meet app which is available in the app store for your device. A Google account will be needed in order to access the room. If you do not have one already, it will prompt you to make one. Google will allow you to make an account with your current email address.
If you need any assistance with downloading, making an account, registering, or preparing your technology for this meeting, please call the library to set a meeting up at least 24 hours in advance.
In order to prevent "bombers" from intercepting our event, an email will be sent 24 hours prior with the link to the program. Please do not try to enter the meeting until 15 minutes prior to the discussion at the earliest.
Program Date:
Tuesday, September 22, 2020 - 6:30pm